The Sandman Will Keep You Awake - The Loop
Play Sound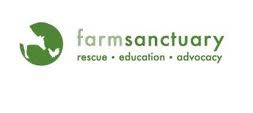 Farm Sanctuary was founded in 1986 by Gene Baur and Lorri Houston to combat the abuses of factory farming and to encourage a new awareness and understanding about "farm animals." At Farm Sanctuary, these animals are our friends, not our food.
Farm Sanctuary houses over 800 cows, chickens, ducks, geese, turkeys, pigs, sheep, rabbits, and goats at a 175-acre (0.71 km2) animal sanctuary in Watkins Glen, New York. They also house over 400 farm animals at a 300-acre (1.2 km2) sanctuary in Orland, California which, unlike the New York shelter, also houses burros. Farm Sanctuary acquired a third shelter, Animal Acres near Los Angeles, California in 2011. Farm Sanctuary has a budget of $5,573,795 in 2010.
 "To protect farm animals from cruelty, inspire change in the way society views and treats farm animals, and promote compassionate vegan living."